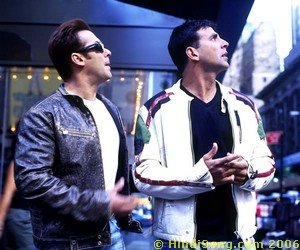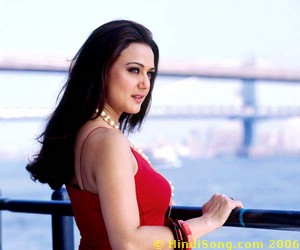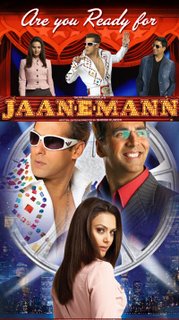 s is away visiting l and i wanted to see a movie the night before diwali. i had a tough choice.it was a toss-up between 'don' and 'jaan-e-mann'.i chose the latter.a wrong decision.i couldn't sit beyond intermission.first time probably in my life when i walked away before the movie was over.was it my intolerance of the traditional bollywood fare or what i am not sure.an army of qawwals walking out of a wooden cupboard.bizareness almost like a broadway musical.and it seemed that so much money was wasted in production design.ridiculous sets and a lot of rubbish from shirish kunder,husband of farah khan.it is shirish's debut film and an example of what happens when you allow your imagination to run wild without any control.when you try to imitate hollywood without any humour and emotions you end up looking stupid.
anupam kher plays a dwarf(baun in hindi) when he is the vertically challenged lawyer and appears as a normal person when he is a restaurateur in new york.a double whammy.akshay kumar as the geek turned dapper good guy is fantastic and endearing though he hardly says anything much in the first half when he keeps on mumbling.salman is the cool dude.longhaired rock singer,immature and a charming womaniser.preity has beauty,brains and wealth.
the picture starts with agastya rao(akshay) narrating his life's story to his blonde colleague on board a spaceship.agastya is a nasa astonaut and scientist.two guys suhan kapoor and agastya (salman and akshay) love the same girl,piya goyal(preity zinta).salman the ex-husband is trying hard to make his ex-wife fall in love with akshay.just to avoid paying a huge and hefty alimony(50 lakhs).and that is the brainwave of his lawyer chachu,anupam kher.suhan's friend,philosopher and guide.piya is in new york,so they take off alongwith akshay who is keen to meet his college love piya.little does he know that she is already married to suhan.
then a collage of new york images.a terrible assault of colour and sequences which compels you to squirm in your seat.the film's director,shirish kunder, takes the credit for the dialogue,story,screenplay and what have you. wish he had shared the work with others.perhaps he could have prevented the movie from becoming a disaster.it has been produced by sajid nadiadwala for rs 35 crores. and music which is by anu malik is average.and charges of plagiarism have been levelled which anu malik has denied.
my comments and review may not be complete because i did not see the second half.a reviewer said that if you can sit through the first half you will enjoy the second half.after all those initial hiccups,i couldn't wait for the film to settle down.the cashregister hasn't rung for sajid,i understand.though his initial investment of rs35 crores might have been realised,the movie is almost a flop.i am not at all surprised.
i make no 'bauns' about it.it is jaan-e-moan.