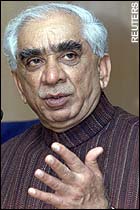 jaswant singh is an extraordinary man. he held positions of foreign minister,defense minister and finance minister in the nda government.positions which he swapped with his near namesake yashwant sinha.after the fullblown breakout of the uti scam,yashwant was moved as foreign minister and jaswant got finance.jaswant studied in mayo college,ajmer and later served the army.a regular columnist in several political magazines,he did a reasonably good job both as foreign minister and finance minister. with atalji's guidance he globetrotted and struck good rapport and relationships with heads of states.and he liked doing this job.shaking hands and attending cocktail parties.as finance minister he had to clean the mess which his friend yashwant had left behind.grudgingly he swept the room with a clean broom.
and then after nda lost power thanks to the wrong call given by pramod mahajan for an early election, he had plenty of time in his hands. and he used his mayo college background,journalism experience and vast knowledge of international affairs gained as external affairs minister to write books. it appears he is in the process of writing four more books.in all six out of which two have been released. the first one,his magnum opus,a la henry kissinger, is "a call to honour: in service of emergent india' which was rejected by penguin.jaswant rushed to rupa and the clever kapish mehra after quickly reading the manuscript decided to publish it.he knew he would make a killing.said mehra,"this book is almost like mona lisa,it looks at you the way you look at it".
on july 26,the book was released.it immediately flew off the shelves.and it created a big political hungama. js had mentioned about a mole in the pmo during congress led government of p v narasimha rao leaking our nuke programme to usa. the sensational revelation shocked the nation and he hogged the headlines of newspapers for quite a while. and mehra's instinct proved right.the book went into five reprints and more than 20,000 copies were sold till about a fornight back. it was in competition with amartya sen's 'the argumentative indian' which had sold 30,000 copies and was published by penguins.jassi ,the man from jodhpur,went laughing all the way to the bank.
but he went through a hell of a period during which he made a fool of himself. he promised to name the person, then said that he would convey the name to the the pm alone,then said that the pm was not inviting him over and finally the cat was out of the bag. there was no mole.the imaginary mole was supposed to be sharing our nuclear secrets with the american government.ultimately he gave up after a last ditch attempt to rope in the americans themselves.by saying that there was a letter witten by the us department to the american ambassador to india harry g barnes about the mole. what mole asked barnes.when the americans ridiculed it and called the letter a forged document jassi's trick was out of the bag.
can a person of his stature make such observations and not back them with any concrete evidence? is there no accountability to the nation? in the process,what did he achieve.besides a swelling of his bank account which prompted him to lightheartedly request the finance minister not to tax his earnings. he has only weakened his image and that of bjp. initially bjp almost disowned him because the question that arose was if he knew about the mole in the pmo why did he keep quiet when the nda was in power. was he himself not a security threat. but later on the bjp rallied around him and put up a joint front. after some exchange of verbose between manmohan singh and jaswant singh the matter seems to have got a quiet burial. the mole went back underground.and jaswant must have said 'Oh,sorry,i was jas bluffing".
the mole was a figment of jassi's imagination.he wanted some sensation to sell his book. and he got it. we did smell a rat when we read about it. but then a mole is a big rat which burrows underground.so we couldn't see it for some time.very soon it surfaced and there was egg all over jassi's face.
"oh,what a tangled web we weave when we set out to deceive.the most honourable jaswant singh is hoist by his own petard".